Spring Fever!
Last night, I got nine hours of sleep. This morning, the sky was clear and the weatherman predicts a high in the lower 50's. Sitting at work is absolute torture. I have spring fever!
All I can do with my restlessness is make plans for the weekend. I will be Mike-free, so I think I'll put together my brand-new wheelbarrow and clean up the yard. I'll rake leaves and clear the flowerbeds. I have grand pruning plans as well. I am going to prune the rosebushes (which have NEVER been pruned and are tied upright to the deck with rope). I am also going to prune some of the lower branches of the trees. I know the city doesn't like it when your tree branches bash the heads of anyone trying to negotiate the sidewalk.
Not only am I planning on wounding plants, but I may start a constructive project as well: building raised beds around part of the deck. Although the
plan
doesn't indicate it, the top left corner of the deck has a lattice roof. I am going to build the beds around this corner and plant vines to climb the poles and populate the lattice. I've been debating between trumpet flower (above) and clematis (below), but I may just plant them both!
Building beds
with interlocking blocks seems to be within my skill set. I am going to build beds, vice plant the vines in the ground, to escape issues with the clay soil and minimize the shade that the deck casts on the beds. Honestly, all I'll probably accomplish on this front this weekend is planning the beds and buying the blocks, gravel, and soil, but that's progress!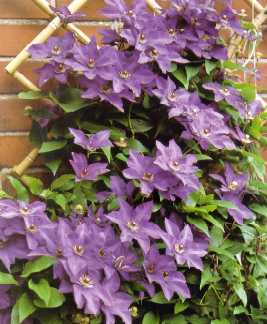 Anyone else have springy outdoor plans this weekend?